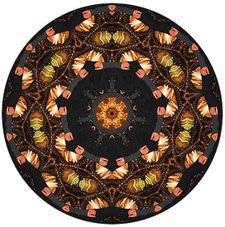 humann
samples - floodnet
5. FloodNet
1998 net.art
by The Electronic Dsturbance Theater

website: http://www.thing.net/~rdom/zapsTactical/zaps.html
This artwork relates to the humann kaleidoscope installation conceptually. Although humann merely requires one participant, rather than the thousands needed to make FloodNet successful, both FloodNet and humann are symbolic actions that highlight small links between the participant and remote events.
I am interested in social events that use data communication to empower people rather than institutions. I am a founding member of the Electronic Disturbance Theater (EDT), an internationally recognized net.art activist group. FloodNet, our net.art project explored the use of the internet as a site of political protest. FloodNet was an electronic civil disobedience performance art project that engaged activists world wide in virtual protest of the low intensity war on the indigenous people of Mexico. I have often heard activists claim that net.activism is not real activism because people do not lay down their lives in the street while participating in an online action. Sarah Wolff, a handicapped woman told me FloodNet made her see that she could use the web for political activism. Sarah cannot join street actions because of her physical limitations, so the idea of international online protest empowered her.
Given the breadth and depth of increasingly global mass communication, denying the impact of our personal choices on the rest of the planet is now inexcusable. Recycled information can lead to new perspectives by presenting the data differently. Information is accumulating faster than it is possible to track; knowledge databases, multi-national industries, social contexts, and technologies affect everything. Contributions to emerging technology and future cultural development require data analysis. Data visualization is critical for new analysis.

FloodNet website screengrab: Showing the reload applet in the upper left and the White House homepage loading in the bottom 3 frames.